The Northern Suburbs are another area that we as Cape Town Blinds service!
An area that is a true testament to the vibrant spirit of the Cape, the Northern Suburbs display our country's diverse nature across all inhabitants. A highly industrial setting, as well as home to many a family, the Northern Suburbs is a practical location for blinds of all shapes and sizes. It is also home to many expats and is undergoing constant expansions as a growing business hub. As a warehouse owner or family home carer, Cape Town Blinds has the best selection of customisable blinds to complete the look in any context.
Now that you've decided you want quality blinds from Cape Town Blinds, drop us a line or give us a call to book an appointment. We will shortly send out a representative to consult you on your needs and then follow-up with a perfect installation that will bring your vision to life.
Contact a Norther Suburb Blind & Shutters Consultant
Blinds & Shutters in Northern Suburbs

Aluminium Venetian Blinds
A most cost-effective solution to your property-fitting requirements, Aluminium Venetian blinds are a top seller from Cape Town Blinds in the Northern Suburbs. The price is by no means a forfeit on style, as these blinds are offered in a variety of colours and are tailored to the windows you're sure to want to dress with them! Another great perk about Aluminium Blinds is the fact that they will save you electricity costs in Winter via keeping all the warm air securely inside the confines of your home. A dust here and there will keep them in great shape, making them one of the best time-saving blinds on the market. Save time right now and call us to place your order!

Wooden Venetian Blinds
An elegant, yet practical design choice for homes and businesses in the Northern Suburbs alike, Wooden Venetian Blinds never cease to please our customers! Tailored to your windows, whatever the shape or size, these blinds are the organic kings in regards to saving money on power bills. They are able to keep warm air inside during Winter, much like the Aluminium Blinds we offer, yet they add a definite natural quality to any space they're used in. Available in woody hues and white, these blinds will last a very long time and are practical if you don't like to replace things on a regular basis. You don't need to fuss over cleaning them, they are coated in varnish and will continue to add an air of sophistication to the space. Book an appointment immediately to ensure you get these in your home as fast as possible!
Vertical Blinds
Professional with clean lines, Vertical Blinds can really tie the look of your Northern Suburbs commercial property together. The vertical nature of these blinds will also leave the impression that your windows seem taller than they really are, which could make it very suitable for also your home needs. They are easy to clean, being made from convenient materials and come in a wide assortment of custom colours to best match the room. Control the amount of light that enters by holding them at an angle or opening them fully. They are effective at conserving energy, as they keep the Summer heat out when fully closed. Connect with a professional at Cape Town Blinds today and discuss your requirements – we're all ears!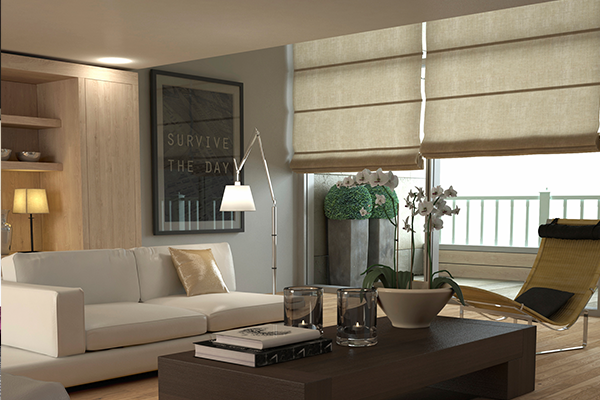 Roman Blinds
Looking for the blinds to finish off that funky room of your home in the Northern Suburbs or need something a bit more stylised? Our Roman Blinds are the ultimate tailor made creations we offer at Cape Town Blinds, because you decide exactly what fabric you want and what colour is needed to match your abode. Unique to the person ordering them, they often stay in fashion above the passing design trends of today. The looks you can achieve with Roman Blinds are versatile, timeless and usually elegant. They can trap in cold or hot air, which alludes to their energy conservative properties. Drawstrings make them hassle-free to use and possibly the best solution for your needs. Give us a call right now and find out if this is the best option for you!

Bamboo Roller Blinds
A great natural alternative to the Wooden Venetian Blinds we offer to residents of the Northern Suburbs, with far more of a homier feel. Bamboo Roller Blinds offer a delicious Bohemian flare to any environment and are a must have to any room with bamboo elements already installed. Since our Bamboo Blinds don't have any spaces between the bamboo slats, these blinds will last longer, are most convenient to keep clean and they are less likely to break apart due to this reinforcement. Even though you need to tug the string to roll them up, they are exceptionally light weight and are designed to work with you! Phone us today and let us fulfil your needs.
Shutters
Treat yourself with the luxury of the best item Cape Town Blinds has to offer all Northern Suburbs inhabitants. Shutters come complete with all the best facets of every blind we offer, fully custom made to your needs down to materials and colour scheme. They insulate your space, saving on power costs and can also replace oppressive burglar bars with top-quality elegant security. They give the ultimate control over outside factors, such as light, heat and sound. If looked after properly, these Custom Shutters will last for generations to come, eternally lifting up the class of the room by at-least a few notches! Hurry and order your shutters today to get them ASAP.
Northern Suburbs Blinds & Shutters Customers
These guys provide excellent service! They were friendly and professional the entire time. I highly recommend them for anyone in the Northern Suburbs area looking for blinds.
We worked with Kyle and the Cape Town Blinds team when we needed new blinds for our house. The service was fantastic and the quality of the blinds were impressive. Since then we've bought several more from them.
Contact a Northern Suburbs Shutters & Blinds Expert