The West Coast is another popular location with high demand for Cape Town Blinds. This area stretches up our West Coast region of Cape Town, beginning just North of the Cape Town City Bowl. The West Coast is a trending location for all types of people, especially due to Canal Walk, the largest mall in the entire Western Cape. An extensive number of apartments, villas, small-time businesses and big-time enterprises are amassed throughout this area too. Cape Town Blinds offers comprehensive custom blind and shutter solutions to decorating the windows of each of these structures and many more.
Contact us and set up an appointment to find out how we can make your dream interior come to life. We will be more than happy to accommodate you by finalising the custom details and taking down measurements. After that's out the way, our professional team will be able to install your custom blinds and shutters to transform your interior into something you could only dream of!
Start your West Coast blinds & shutters project
West Coast Blinds & Shutters

Aluminium Venetian Blinds
If you are running a tight ship with a minimal budget, you should consider installing aluminium blinds in your home or commercial property in the West Coast area. These blinds serve almost all functional needs, present in an array of attractive colours and fully customisable to all windows. They save you even more money (aside from being so decently priced), because they trap heat inside your home during winter and the opposite effect can be observed in the summer! Cleaning these your custom aluminium blinds is a no-brainer, they only need an occasional wipe and dusting down. Keep out the glare or let in as much light as you like, using the simple rotators that make this blind easy to use. Call right now and you can order your custom aluminium blinds in a jiffy.
Wooden Venetian Blinds
Cape Town Blinds help bring in custom wooden venetian blinds to any home or business windows on the West Coast. Clean lines that exude an organic beauty beyond compare. Wooden venetian blinds are a practical and aesthetically pleasing choice for all. They come in white as well as an assortment of woody tones. Due to the fact that we use varnish to coat these blinds, our made to measure wooden venetian blinds can stand the test of time and are very much weather-proof for any home on the West Coast of Cape Town. You can even save a penny or two thanks to the insulation properties of these blinds! Easy to clean, why not instil an organic sophistication to any given room? Contact Cape Town Blinds and arrange an appointment as soon as possible.
Vertical Blinds
If you want a different approach to a room in need of blinds, why not think vertical instead of horizontal? Our custom vertical blinds are the ultimate choice for businesses of all kinds and are also increasingly popular for the modern home owner in the West Coast. They come in gorgeous colours and as with all our custom blinds, they are customisable to any of your windows. The length they impart to the room is thanks to the clear vertical lines in their sleek design. Apart from being brilliant at blocking light or letting it in, they keep cool air inside the room all round Summer and are energy efficient. The fabric they are made of makes cleaning an absolute breeze and they may well be the best choice for your needs. Connect with us quickly to place an order for a set of custom vertical blinds today!

Roman Blinds
Are you currently from the West Coast, bored of all the average blinds out there and looking for a little bit more of a WOW factor inside a budget you can control? Our made to measure roman blinds are your solution. Design them entirely from scratch and select the fabric and colour for the window they ought to dress. Ornate, beautiful and timeless, they will never be out-grown in the world of interior design. You may even be able to keep energy costs down with Roman Blinds as they insulate very well. The drawstrings that work the blind are confusion-proof and simple, making it an optimal choice for any original space. Call Cape Town Blinds to have us visit your home in the West Coast for your new custom roman blinds.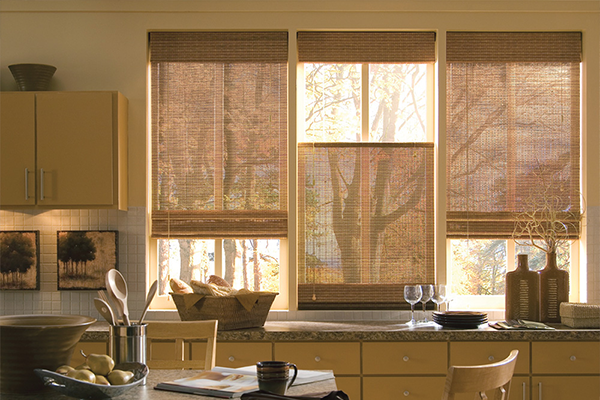 Bamboo Roller Blinds
Some of us prefer that more relaxed and homey vibe in our home in West Coast, Cape Town. Bamboo Roller Blinds are a great way to achieve this feel, being organically ornate and eco-friendly! Innately light, our custom bamboo roller blinds are not a mission to pull up and down or keep clean. In fact, the cleaning is made so much easier due to the fact that there are no slits between the bamboo slats. The reinforced nature of bamboo in combination with that also keeps it lasting for a lifetime and less susceptible to wear and tear. Fully customized for your window fitting needs, Cape Town Blinds is always only a call away to finishing the look you desire. For a fast service delivery on the West Coast, call right now!

Shutters
Custom shutters sit as the King Pin in the selection of window fittings we have to offer in the West Coast area. They ooze class, wealth and opulence and just up the playing field for interior designs anywhere. Cape Town Blinds offers them in a large selection of colours and materials like woods or metals for all of our customers in the West Coast. Fit some of these elegant shutters into your home and forget about burglar bars – shutters are the ultimate aesthetically pleasing security solution too! Masters at insulation, you can also control the amount of light and even sound that goes in or out of your space. Call us to install our custom shutters in your home in the West Coast today to appreciate their high-end qualities for years to come.
Blinds & Shutters West Coast Customers
Kyle and his team were very courteous and helpful during the entire process. I could not have asked for a better experience when buying custom blinds.
WOW! Cape Town Blinds was fantastic, they had a great selection of made to measure blinds to choose from and were very quick during the installation process. Great service!
Find blinds & shutters to fit your needs in the West Coast