Shutters & Blinds Helderberg
The natural setting of the Helderberg has indeed captured the hearts of many Capetonians and travellers alike. A 45minute drive from the Cape Town CBD, the Helderberg region is backed by Sir Lowry's pass and is also a short distance from Elgin, South Africa's Apple and Pear growing capital. Reminiscent of all the elegance of the Western Cape's famous fauna and flora, the Helderberg additionally offers a few of the most highly sought after family beaches, golf courses and superior wine routes. If you need some blinds to complement the natural beauty or oceanic splendour the Helderberg has to offer, Cape Town Blinds will be able to accommodate all of your desires and more!
Once you have made the optimal choice and custom selections for your blinds project, phone us. We will not hesitate to take a turn to your area in the Helderberg to discuss and take measurements, before we return to finish the job as well as your window's unique 'outfit'.
Meet with a Helderberg blinds & shutters consultant
Helderberg Blinds & Shutters

Aluminium Venetian Blinds
Are you in the Helderberg and looking for a budget conscious solution to your window dressing needs? Aluminium Venetian Blinds are the answer for you, available in a decent selection of colours and non-compromising in terms of room aesthetics. Keep the coolness in your home during Summer and raise the heat in Winter with these energy conservative blinds – your electricity bills don't have to be sky high! Simple to use drawstrings and rotators allow you to control the amount of light entering the room. Complete with minimal maintenance (dust or wipe to clean), these blinds are a perfect solution for just about any practical application. Get your order in now to secure your place in line as soon as possible!
Wooden Venetian Blinds
Our Wooden Venetian Blinds are a perfect match for any beach house, guest house or any discerning home owner from the Helderberg who is in love with the nature of things. These blinds will imbue any given space with that lovely, organic feeling that only wood can give off, while still providing you with modern sophistication! Coated in a skinny layer of varnish, Wooden Blinds at Cape Town Blinds are weather-proof and do not age very fast, lasting a few years at the very least. Available in natural hues and white, Wooden Blinds are not a bother to look after – just give them a dust and wipe. Also these blinds can insulate spaces very well, which will save you costs in Winter time. So what are you waiting for? Give us a call right away!

Vertical Blinds
Many businesses throughout the Helderberg make optimal use of Vertical Blinds as they are especially gifted in finishing off the appearance of a professional office suite. These blinds have lucid lines innate in their design and can impart a modern look to any minimalist interior, home or office. Available in colours designed to please the eye, Cape Town Blinds will tailor these blinds to any window or door in need of them. Hold full control over the lighting in the room and decide if you want them left, right or centred. They are super maintainable, being made of fabric which is easy to clean. What's more is that they keep your house cool in Summer, a fantastic choice for the Helderberg region! It's not too far away for us either, just organise an appointment and we will quickly satisfy all your window fitting needs.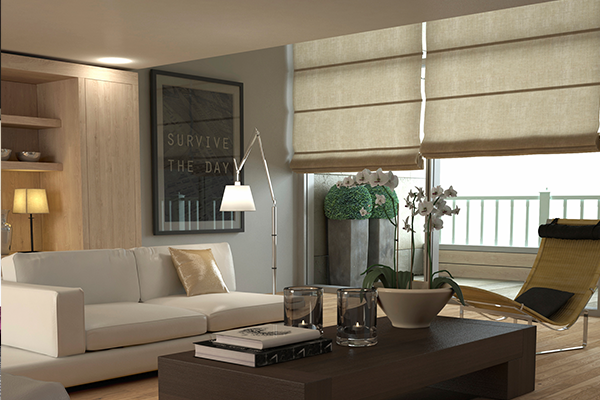 Roman Blinds
If you are involved in the Helderberg property industry or just want the ultimate selectivity on what goes into your living space, Roman Blinds have got you covered! Tweak them up or down with any fabric and colour combination you can think of. A very popular choice amongst landlords, because Roman Blinds never have a trending expiry date and exude a permanent timelessness to them. They can also add to your pool of resources by insulating your home and saving on energy related costs. The drawstrings used to pull them up and down are simple and fuss-free. Order your unique Roman Blinds from us today!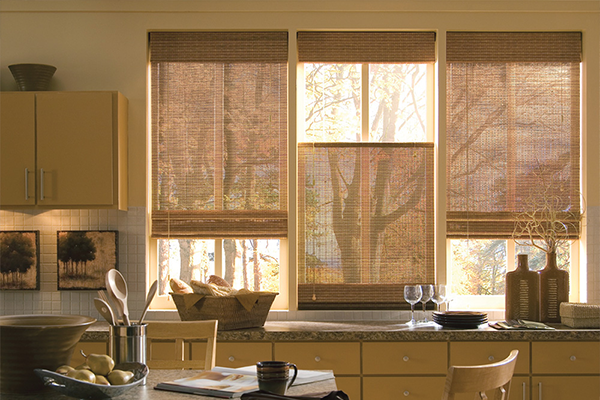 Bamboo Roller Blinds
In such a grand natural setting, the Helderberg has plenty of room for Bamboo Roller Blinds to instil a naturalist appeal to your home. Sustainable and eco-friendly, these blinds will send your subconscious mind on a journey to a tropical island, leaving you feeling relaxed and at home. Bamboo is inherently light and easy to maneuver and these properties have been carefully preserved inside our Bamboo Blinds so you don't battle with them! There are no spaces between slats and this reinforces the blind, creating a stable, durable structure and one that is just a wipe away from being kept clean. These blinds are also just a convenient phone call away from landing up in your home – take the plunge and let us know how we can help you to get that piece of Bohemia into your home!

Shutters
If you are tired of living in a crowded area of the Helderberg or just need something secure without compromising on aesthetics, consider purchasing Custom Shutters from us. These have all the best core elements of all our blinds and stand at the top of our list as the best possible window dressing solution. High-end technology disguised in sophistication, these blinds can replace burglar bars and are an effective security measure. Shutters provide the best control over light, sound and heat, making them able to conserve energy efficiently. Customise your Shutters with an array of trendy colours and materials ranging from metal to bamboo. All it takes is a moment of your time, send us a message right now and allow us to transform your interior into something out of a movie setting!
Blinds & Shutters Helderberg Testimonials
After our old blinds fell apart, we decided to hire Cape Town Blinds. I was initially hesitant but was quickly put at ease with their friendly service and transparent pricing. I recommend them to anyone in Helderberg looking for shutters or blinds.
Fantastic work, great high quality product and even better service. We plan on using them again and again.
Meet with a Helderberg Blinds & Shutters Specialist now