Cape Town Blinds can install blinds in your home if you live in Goodwood, Northern Suburbs. Goodwood in the Northern Suburbs of Cape Town may have been a once forgotten racecourse, but today it's a bustling hub of activity, business and diverse people! A myriad of colours decorates various parts of Goodwood's structures, amongst bits and pieces of Cape flora and business premises. If you live or own a business in Goodwood, Cape Town Blinds can fabricate a unique shutter or blind to fit your windows which match your style.
Call us to find out more about our selection of custom-made blinds! When you decide on something you like, we will arrange an appointment to come and see where you need the blinds put. Shortly after this, Cape Town Blinds will be able to install the blinds and send you closer to your vision.
Looking to start your blinds or shutters project in Goodwood?
Custom Blinds & Shutters For Goodwood, Northern Suburbs

Aluminium Venetian Blinds
Are you running a business or do you own a home in Goodwood? Can't find affordable blinds in the Northern Suburbs? Cape Town Blinds can sort you out in one phone call with the very best Aluminium Blinds on the market, tailoring them to suit your needs! Very easy to maintain with a wipe and dust down every now and then, these blinds will last you a very long time. They also come in a variety of beautiful colours to choose from, allowing you to match the interior seamlessly. Aluminium Blinds are also not difficult to use, just turn the rotator to angle the slats how you like and pull the drawstring up and down to open and close. Phone Cape Town Blinds to make your Aluminium Blinds order today!

Wooden Venetian Blinds
Take the racing track to your Goodwood home or office by installing our Wooden Blinds! Cape Town Blinds offer a fantastic natural selection of wooden blinds which are energy-efficient, easy to maintain and look good in the majority of interiors. The finishes we apply to our wooden blinds enhance their durable quality and we also offer them in more than one kind of wood or hue, such as white. Keep the chill outside where it belongs in the Winter months with our wooden blinds that do a marvelous job at insulating! Leave your order with us today so we can arrange an appointment and upgrade your home or office asap.
Vertical Blinds
Offices and flats alike situated in Goodwood can benefit from the versatility that our vertical blinds offer. Something about the vertical lines that add a minimalist, modern style to all interiors. Choose from many great colours and place vertical blinds wherever you need them in doorways or windows, to the left or to the right. Vertical blinds barely require maintenance, just needing to be spot cleaned when dirty with a damp cloth. They keep warm air trapped during Winter and cool air in during Summer, helping to save on energy bills. Don't delay and order our custom vertical blinds today!

Roman Blinds
Goodwood is an everchanging part of the Northern Suburbs in Cape Town and that's why members there can appreciate the customizable feature of Roman Blinds. You can get an exact fit with your business of living space, even if the building is an odd colour or you need something different. Cape Town Blinds is offering a vast range of fabrics and designer colours to allow you to create a trendy blind. These blinds are not complicated affairs, being controlled simply with one drawstring. They keep hot air inside during Winter and save energy that way. Enjoy the timeless quality of Roman Blinds and order yours right now with Cape Town Blinds!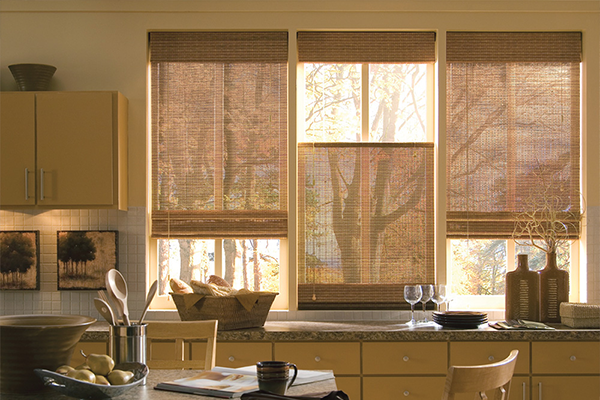 Bamboo Roller Blinds
Cape Town Blinds has Bamboo Blinds to offer the businesses and residents of Goodwood in the Northern Suburbs. Creating a funky Boho vibe can be just what your home or business needs to jazz up. These blinds are natural, very eco-friendly and will last for many years to come. The slats are also packed together tightly, ensuring an easy cleaning experience. Bamboo in itself is naturally a very light material and so are our Bamboo Blinds, being a dream to pull up and down. Place an order today with Cape Town Blinds and begin bringing your slice of Bohemia to your interior immediately!

Shutters
Do you need extra protection in Goodwood in Cape Town's Northern Suburbs, but hate the look of burglar bars? Shutters are for you. Timelessly trendy, even used on Cape Dutch housing from centuries ago until now, shutters are appreciated by all. They insulate the home the best out of all our our blinds products and are 100% custom made to suite your needs. Choose from a selection of materials ranging from metal to wood and have it made up in the best matching colour! You can completely block out all light from the room if you need to and can even drown sound out. Order your exclusive top quality shutters from Cape Town Blinds today!
Blinds & Shutters Customers in Goodwood
These guys have an enormous selection of blinds and are surprisingly affordable since they are custom made for our needs. You definitely have a repeat customer here
These people are amazing! They provided quick and friendly service that made the entire process feel easy unlike the other guys.
Get in touch with a Goodwood blinds and shutters expert now