The South Peninsula is globally known for the gorgeous, yet mysterious, vantage point of the ocean, from the Southern most tip of the African continent. Absolutely a desirable location for tourists and locals alike, the South Peninsula has much to offer one. A place over-flowing with South African naval heritage and where penguins occasionally roam free, the South Peninsula is a unique collection of harbours, homes and businesses alike. Cape Town Blinds is only a quick phone call away to blocking out the ocean glare or jazzing up your harbour-side establishment with unmatched style!
Order your blinds by first making an appointment with us. We will gladly send over somebody to take measurements and to ensure we understand your unique needs, before we return to complete your look.
Schedule a visit with a Blinds & Shutters expert in South Peninsula
South Peninsula Blinds & Shutters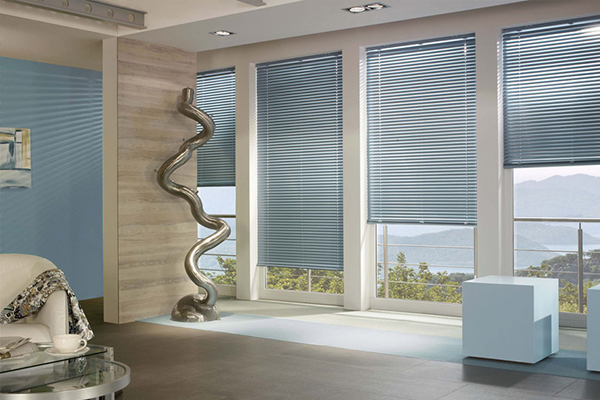 Aluminium Venetian Blinds
The oceanic glare at the South Peninsula can be bothersome and not all blinds can keep out as much of it as Aluminium Blinds. These uncomplicated light preventative blinds are also super stylish, coming in a plethora of colours and of course, will be tailored to your abode's exact requirements. Save yourself extra costs on power bills with this blinds ability to trap in heat in Winter! It also has the opposite effect in Summer, keeping your dwelling desirably cool when the outside heat is unbearable. Manage the light intake with drawstrings and rotators to suite your desire in the moment. Aluminium blinds don't require a high maintenance and can be cleaned via dusting. All the more reason for you to order yours as soon as possible – call today!
Wooden Venetian Blinds
The beauty of the South Peninsula at the Tip of Africa deserves to be complemented with only the most majestic and natural blinds, offered by Cape Town Blinds. These are ideal if you live near the ocean, as they can block out the glare as well as insulate the room in Winter, on those excruciatingly cold, foggy evenings. The benefits of incorporating Wooden Blinds into your interior's look include lightening up your space with a more organic atmosphere. These Blinds come in all hues of wood and in the colour white. They are highly weather and moisture resistant, making them the optimal natural choice for your property on the Peninsula. Do not hesitate to leave a query or place an order right away!
Vertical Blinds
Another fantastic choice of blinds for the members of the South Peninsula, Vertical Blinds impart a modern appeal to any room. The modest lines of their sleek design help to slenderise widows and are offered in a multitude of colours. Custom made, Cape Town Blinds will tailor these blinds to suite your unique space. Ideal for offices and homes alike, these blinds are convenient to clean, being made of fabrics that are conducive to this effect. They give you maximum flexibility on how much light you wish to include in your setting and allow the cool air to remain inside during Summer. Get that office area fully jacked with Cape Town Blinds and book yourself a consult today.

Roman Blinds
If you can't seem to find the right match in the South Peninsula to dress your property's windows, consider designing the blinds yourself! Roman Blinds offer you the most flexibility in this regard, allowing you to hand-pick the fabric they're made from as well as the colours involved. Go as wild or contained as you want, these blinds are made to fit any window spaces. They can keep in the cool air during the sweltering Summer and offer the opposite salvation during Winter. Ease of use and a timeless quality to them make the ideal long-lasting partner in interior design across the Western Cape. Call us and let us know exactly what you need to get the job done!

Bamboo Roller Blinds
Is your South Peninsula home a tropical oasis in the midst of a Capetonian skyline? Bamboo Roller Blinds are here to complete the look in full, relaying an unmatched homey, Bohemian eco-style to all living environments. Our Bamboo Roller Blinds offer a unique feature above other kinds in that the slats have no spaces between them. This not only reinforces the structure, making it unbelievably durable, but also keeps it simple to wipe down and clean! Bamboo is light-weight by nature and thus these blinds are not a hassle to roll up or down. Fully customizable to your windows, order these today, especially if you already have bamboo as apart of your interior's design!
Shutters
Shutters are the most ideal way to convey class, elegance and sophistication to any location, including buildings within the South Peninsula. They incorporate the best of all worlds, drawing the combined top features of all the other blinds we have to offer. Conservative of energy, they insulate the room, as well as provide the most control possible over light, heat and outside sounds to the user. Privacy can now be extended to stylish security and you can throw out the burglar bars when you install our Shutters. Tailor your own ones by choosing from our selection of colours, woods, bamboo and metals. Give your room the optimal look of class it deserves and book an appointment with Cape Town Blinds.
Blinds & Shutters South Peninsula Testimonials
If you live in the South Peninsula and need shutters, call these guys immediately. They are fantastic! Quick service, a huge selection of styles and super friendly.
Kyle and his team at Cape Town Blinds helped us find the perfect set of blinds for our home. Great work guys!!
Meet a South Peninsula Blinds & Shutters Consultant