Cape Town Blinds certainly will cater to any of the families or business owners in the quiet Southern Suburbs. An authentic member of Cape Town's residential areas, the Southern Suburbs contains a large variety of buildings interspersed with trees and more natural surrounds. It's also home to the largest collection of historical structures in South Africa! Cape Town Blinds will not hesitate to find the perfect blinds, fit for your next home improvement project or to vamp up your company HQ.
All it takes is a call and we will be right there, measuring and finalising your interior design wish-list. Once we have a clear idea of your ultimate end vision, we will return to install your dream blinds and complete the look to your specialised needs.
Meet with a Southern Suburbs Blinds & Shutters Consultant
Southern Suburbs Blinds & Shutters

Aluminium Venetian Blinds
A great purchase for any deserving home in the Southern Suburbs, Venetian Aluminium Blinds are a fantastic option for the budget-aware home or business owner. Complete with drawstrings and rotators to give you maximum control over the light and heat in the room, these blinds come in a bright array of delectable colours. In Winter, you can trap the heat in the room which will already reduce electricity tariffs. They are not a mission to keep clean either, really just requiring a frequent dusting and an occasional wipe will do! Cape Town Blinds will fully customise these blinds to suite the environment you need them in. Contact us today!
Wooden Venetian Blinds
A really popular choice for residents in the Southern Suburbs, these blinds offer an alarmingly elegant natural charm to the room. Available in clear white and other eco-compatible hues, Wooden Venetian Blinds offer the best properties of Aluminium Blinds with the added extra value of being long-lasting. The secret to this lies within the varnish coating these blinds, making them weather resistant and simple to maintain. Dust, wipe, done! Keep full control over the light and leave an even lighter impression on the aesthetics of the room, even when closed up. Wooden Blinds can also keep those electricity bills lower in Winter, as they insulate extra well. Act quick and receive your set of wooden blinds as soon as possible!
Vertical Blinds
Offices, school buildings and homes alike in the Southern Suburbs all have adopted these Vertical Blinds like a pandemic! The vertical lines create a sophisticated appeal and elongate any window frame they are applied to. Cape Town Blinds will tailor them to your unique needs with a bright array of beautiful colours to choose from. These blinds can save on power as they can block out the heat and keep the cool in during those harsh Summer months. Ideal to keep clean and imbuing a modern style to your setting, Cape Town Blinds is only too happy to support your home décor fancies. Message us right now to set up an appointment!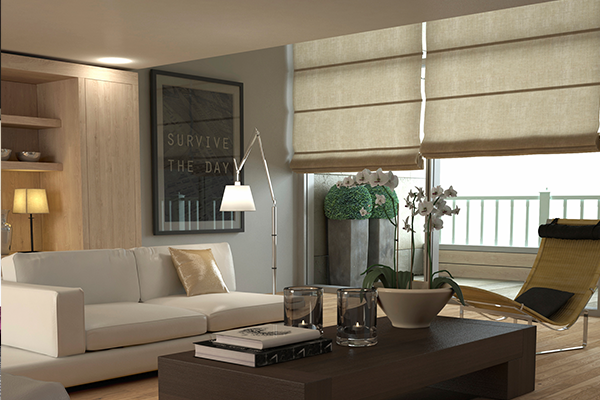 Roman Blinds
If you are not the kind of person that enjoys limited choices, take a look at what our Roman Blinds can offer to you and any other Southern Suburbs residents. Choose the colour you want AND the fabric, within a nearly endless selection of beautiful choices. The appeal of these blinds is not just a fleeting fad as they embody a vintage feel and exude an unmatched timelessness. Roman Blinds are able to conserve energy costs by insulating a room when pulled down. The drawstrings attached help you to navigate them with no hassles and allow you to appreciate your own uniquely fabricated living environment! Book a consult today and arrange some Roman Blinds that are sure to liven up the space and impress your friends.

Bamboo Roller Blinds
Many of the homes in Southern Suburbs are deserving of our Bamboo Roller Blinds, with their ability to impart a more genuine and natural ambiance to any living environment. Eco-friendly and a sustainable solution, these blinds are a requirement for windows inside rooms that have bamboo roofing already! There are no spaces between the bamboo slate, making them a no-brainer to wipe clean and highly resistant to breaking apart over time. Impressively durable, bamboo is a naturally light-weight material and thus the perfect option for a roll-up blind. Call Cape Town Blinds today to get that more relaxed Bohemian naturalist feel for your home today.
Shutters
Designed for maximum beauty, functionality and at the very top of our product range, shutters never cease to please our Southern Suburbs customers. They protect you with the added feature of being able to replace burglar bars and are naturally far more sophisticated in style! All of our blinds best characteristics can be found within our Shutters. They can conserve energy by insulating your interior and come available in materials ranging from wood to metals. Choose to colour your shutters any way you want and upgrade the status of the room from modern to elite: order your Custom Shutters from Cape Blinds today!
Blinds & Shutters Southern Suburbs Customers
Cape Town Blinds was fantastic! They had a huge selection of blinds for us to choose from and when we found one we liked they customised it to our exact needs.
We were referred to Kyle when our friends bought several custom blinds from them. When they say quick, professional and friendly they really mean it.
Start your blinds & shutters project in the Southern Suburbs