The residents of Durbanville in the Northern Suburbs can also benefit from the services of Cape Town Blinds! With rolling hills, wine estates, a rich cultural heritage and even its own airfield; Durbanville has come a long way since it was known as Pampoenkraal in the beginning of its development, today standing as part of the Northern Suburbs of Cape Town. If your work offices need a formalised look, your shop front perhaps needs a trendier style or your Dutch-style shutters just broke and you need a replacement, Cape Town Blinds is the solution for you!
Take a look below and give us a ring if you spot something you like. We will shortly be able to help you transform the look of your domain, after meeting you on site and finalising all the unique details. Your custom blinds will be installed soon after.
Contact a Durbanville blinds consultant now
Custom Blinds & Shutters For Durbanville, Northern Suburbs

Aluminium Venetian Blinds
Do you stay in Durbanville in the Northern Suburbs and are you looking for the most affordable blinds? Look no further, the Aluminium Blinds that Cape Town Blinds offer are both cost-effective and look fabulous in just about any interior! What makes them even better is that they insulate your home all year round and could save you extra electricity costs. We offer a large selection of trendy colours to choose from, so you can customize exactly to suite your home or business needs. Not much of a fuss to clean either, Aluminium Blinds are very durable and just need a spot dust and wipe. Contact Cape Town Blinds today for Aluminium Blinds to stylishly retain your privacy within a low budget.

Wooden Venetian Blinds
If you set up shop or live in Durbanville, Northern Suburbs, Cape Town Blinds has uniquely customizable wooden blinds to offer you. The best quality wood and hues to choose from, from pure white, beige to very dark wood. Our wooden blinds come with a vast array of finishes, making them durable and easy to clean with a damp cloth. Woods natural ability to insulate temperature shows with these wooden blinds as they can keep your house cool in Summer or warm in Winter. Make a decision and call Cape Town Blinds to place your order. Your living space will never be the same…
Vertical Blinds
Vertical blinds look really good in just about any office or modern setting, including the interiors of the properties of Durbanville in Cape Town's Northern Suburbs. Minimal vertical lines add a modernized look to the room. Vertical blinds are very versatile, able to be used in doorways and tall widows, moved to the left or right and can be made up in many colours to choose from! Maintain conveniently with a spot cleaning every now and then, using a damp cloth. Vertical blinds could be upgrading your interior very soon, if you contact us as soon as possible with all the details!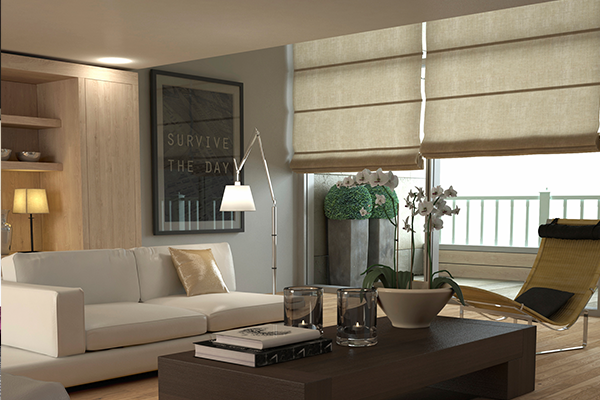 Roman Blinds
If you live in Durbanville in the Northern Suburbs and take pride in the individuality of your own style when it comes to interior decorating, Roman Blinds are the perfect blinds for you! Our Roman Blinds are fully tailored to your desires – choose your favourite colour, fabric and size! Roman blinds also happen to never stop being trendy, retaining a lasting timeless aesthetic appeal to them. They are also energy-efficient, locking air inside your abode that remains cool in Summer, warm in Winter. Leave a message and we will get back to finalize all the intricate details of your window décor day dream.

Bamboo Roller Blinds
Searching for eco-friendly blinds in Durbanville, in the Northern Suburbs of Cape Town? Cape Town Blinds has a great bamboo blind that is fully customizable to your unique windows and needs! Bamboo blinds impart a warm Bohemian feel to any interior, immediately putting you in a relaxed space of mind. Cape Town Blinds Bamboo Blinds however are made without gaps between the slats, making it far more durable, easy to keep clean and pleasurable to own. The easiest blinds to use that we sell, you just pull them up or down. Light-weight and natural, add that more organic homely feeling to your living interior today by calling us!

Shutters
Shutters have plenty of uses for the inhabitants of Durbanville in the Northern Suburbs. From churches to old-style Cape housing to trendy modern homes, shutters are a brilliant addition to any structure. Sophisticated, trendy and durable, shutters will fully insulate your home and even protect you. They can replace burglar bars with a beautiful visual appeal that usually enhances the quality of the room. Excellent at retaining your personal privacy, they drown out most sound, light and heat and provide you with full control over your domain. Leave a message and place an order for your custom shutters as soon as possible!
Durbanville Blinds & Shutters Customers
Friendly service, good quality product, wide selection. We couldn't be happier with our new shutters. Thanks guys!
We hired Cape Town Blinds to do our blinds for our Durbanville office. They were fantastic! Very accommodating for our hours of work
Schedule an appointment with a Durbanville Shutters & Blinds Consultant