Blinds & Shutters Somerset West
Somerset West is part of the Helderberg region in Western Cape. It started as a farm town, with settlements that originally started along the Lourens River. Its location at the basin of Helderberg makes it a charming location, as it is surrounded by exquisite mountain ranges. Near the town, one can see the historic Wine Estate of Vergelegen, built during the Dutch period.
With a population of more than 50 thousand people, it is a municipality with complete institutions like education. Not only are there hotels for tourists, but guest houses and bed and breakfasts have also started to grow in popularity.
If you live in or own a business in Somerset West, and want to have added accents to your windows, then contact us today. We have been professional blinds and shutters suppliers in the Western Cape are since 1990. And we are committed to providing you with excellent service
.
Meet with a Somerset West consultant
Blinds & Shutters for Sale in Somerset West

Aluminum Blinds in Somerset West
If you want a window treatment that's durable but still look classy and sophisticated, aluminum blinds is a perfect alternative. It is moisture-resistant, easy-to-clean, and cost-friendly. The slats come in different sizes and the current trend is using larger ones, so that when the blinds are fully opened, more light comes in. You can choose from hundreds of colours, making the design possibilities endless. Great for both traditional and modern spaces, it is an energy efficient solution for your home or business. The reflective material bounces off light and heat when fully shut.
We provide sturdy and quality aluminum blinds and shutters in Somerset West. If you are thinking of having aluminum blinds to cover your windows, then give us a call today. We will help you achieve the outcome that you want.
Somerset West Wooden Venetian Blinds
Wooden venetian blinds and wooden blinds in general are your go-to solution when you want a classic look for your home or office. Although it's more expensive, people still buy it because nothing beats the luxurious effect of natural wood. It is also very versatile in terms of matching with your design intent because it is available in a wide array of stains and varnish.
Venetian blinds lets you pull up the wooden slats and they stack together, giving you a full view of what's outside. The slat can be rotated, letting you block or allow more light in. You can have light pass through, at the same time maintaining privacy.
Contact us today and we will show you the different wood blinds and shutter finishes that we have. For sure, you will find what you need.
Vertical Blinds Somerset West
Vertical blinds are not only excellent for windows, but they are known for covering large patio doors and windows. The positioning of the blinds makes it easy for you to open the blinds and access the patio. Not only are they functional, but they are also affordable. More importantly, they are a great complement to your modern and contemporary home or office.
It allows for more operation option. You can stack the slats towards the left, towards the right, or it can part from the centre. If you don't need it fully opened, you can just rotate the slats so light will pass through.
We have been a top supplier of vertical blinds in Somerset West for more than 20 years. Check out the different materials, designs and colours available. Give us a call today.

Roman Blinds Somerset West
Roman blinds have been around for centuries, though it has evolved, it's no surprise that it is still a crowd favourite. The softness of the folded fabric makes any room look warm and timeless. There are many fabric styles and textures available: solids, stripes, velvet; it will sit perfectly well in any home or office. Your choice of fabric will dictate the amount of light that can come in when it's pulled down.
Roman shades are simple to operate because they are lightweight. With a pull of a string, you can easily raise or lower them. We custom-made roman blinds for our many clients in Somerset West area. Call us to set an appointment with our in-house designers. Part of our service is to make sure that your requirements are met and you are satisfied with the outcome.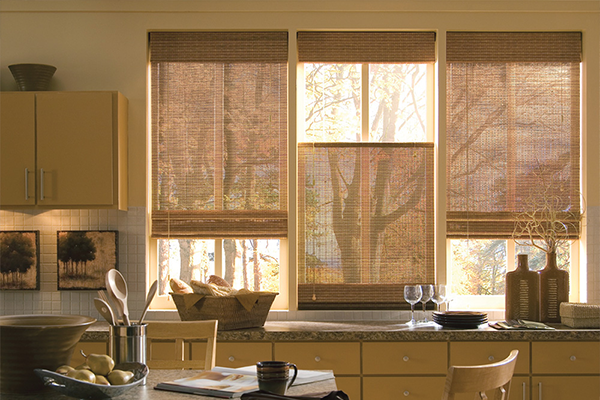 Bamboo Roller Blinds Somerset West
Bamboo is a popular material used in Asian cultures. Its traditional use has transcended into an innovative and stylish material that is used many ways, such as window coverings. Bamboo roller blinds are great for both rustic-themed and clean, minimalist designs. Its natural appeal brings that exotic feel to any place. It is eco-friendly, sustainable, and durable at the same time.
The ways bamboo blinds are fabricated has advanced over the years. Now, you can get them in different thicknesses, stains and patterns. With the pull of the cord, they can fully open or fully cover your window. If you want a natural feel like wood, but have a lower budget, you should definitely look into having bamboo instead.
Call us today and we will give you all the information you need about installing bamboo blinds in Somerset West.
Shutters in Somerset West
If there's one characteristic that puts shutters above all the other types of blinds, it's this: protection. Shutters can block heat, wind and cold, and other things that you want out of your home. It comes with a lock for added security. Plus, it has a charming look that reminds you of a house in the country side.
When full closed, you can have the privacy you want. The slats can still be rotated to allow light to come in. When fully opened, you still have a full view of the outside. You can have it in wood or faux wood, and in different stains and colours.
We can customize window shutters and deliver it to you ready to install. If you have any questions, just give us a call and we'll assist you right away.
Clients in Somerset West
The staffs are very professional and courteous all the way. They also did an excellent job installing the shutters for our home in Somerset West. Thanks again. – Chris M
Good customer service. The technical person came right on time, very reliable and helpful. I'm glad I availed of your services. Regards to your team. – Peter W.
Get your blinds or shutters in Somerset West now