The Cape Town City Centre lies in the very heart of the City Bowl, a true rainbow variety lining the sidewalk in the form of skyscrapers, picturesque Table Mountain views, Cape Dutch monuments and brightly coloured colonial relics. Cape Town Blinds is here to help you to install customizable blinds to suite all your needs in the City Centre. Whether it's an office in the fast-moving business sector, an artful window dressing for the next trendiest store or simple, homey blinds for you and your digs mate's flat; Cape Town Blinds will never cease to please!
We are only ever a phone call away, so after you have decided on the blind to match your City Centre Property, give us a call! We will arrange an inspection to clarify the details of the job, before returning to install your beautiful custom-made blinds or shutters.
Start your blinds & shutters project
Custom Blinds & Shutters For City Centre, City Bowl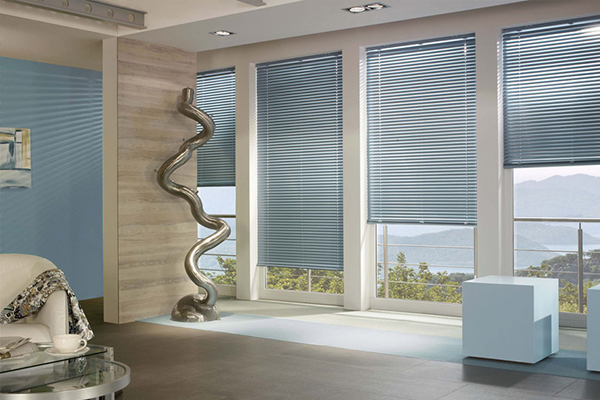 Aluminium Venetian Blinds
The Aluminium blinds we offer are possibly one of the greatest choices for home and business owners of the Cape Town City Centre, in the City Bowl. As a resource, Aluminium is highly affordable, which is why our Aluminium Blinds are the most cost-effective blinds we sell! They come in many customizable colours and allow you to complete your interior with style, without breaking the bank. They keep heat in during Winter, but more preferably, they keep the heat out during Summer. To keep them clean, they just need to be wiped down with a damp cloth. Save on your energy bills and overall costs by purchasing your own custom Aluminium Blinds from Cape Town Blinds today.

Wooden Venetian Blinds
In the city centre of the Cape Town City Bowl, looking for good quality blinds with a more natural feel can seem like quite a big challenge. No need to fear however, Cape Town Blinds has a fantastic range of sophisticated wooden blinds to suite your tastes. Choose from a multitude of woods, hues and finishes, from white to dark chocolate. Coated in varnish and made to last a long time, Wooden Blinds are a great choice for those that don't enjoy having a hot house or office in Summer, providing an excellent degree of insulation. Contact us right away and that interior will be livening up in no time!

Vertical Blinds
Vertical Blinds are a highly versatile choice for window decorating, especially for modern structures found in the City Centre, in Cape Town's City Bowl. The vertical lines drawn into the room from these blinds is attractive in many interior applications and remains to be one of the most popular industrial or home office choices in Cape Town. Keep unwanted heat out or in when it suites, thanks to the insulation properties of vertical blinds. Our vertical blinds are made from a material which is easy to spot clean and comes in a variety of appealing colours. Decide if you want them to the left or right before placing an order today with Cape Town Blinds.
Roman Blinds
If you need to take your City Centre/City Bowl property up a notch, then you will want to install our Roman Blinds, because they are 100% customizable! We offer you a really broad selection of fabrics, materials, colours, textures, you name it. You can go vintage, retro, artsy, classic, minimalist or any look you can dream up! The best part about Roman Blinds is that they have never gone out of fashion and most likely never will, being timeless. They also keep your home cool in summer and warm during winter. If you need something completely unique, get in contact with an interior expert at Cape Town Blinds and allow us to assist you!

Bamboo Roller Blinds
If you are an environmentally conscious person residing in the Cape Town City Centre in the City Bowl, you will want to know about our natural eco-friendly Bamboo Blinds! Built with a reinforced made-to-last design, the slats of bamboo have no spaces in between them. They are also coated in a weather-resistant varnish, diminishing the chances of wear and tear. This design is also great for easy cleaning, allowing you to speedily wipe one surface are unhindered. Bamboo Blinds are naturally light-weight and are easy to roll up and down and use. Bring more Bohemia to Cape Town's diversity pool and contact us right away to order your Bamboo Blinds!
Shutters
If you own a classy or a Cape Dutch styed property in the City Centre of Cape Town's City Bowl, why not opt for our deluxe shutter option? Cape Town Blinds top of the range product, our premium shutters are fully customizable with options from different woods to aluminium. Pick your favourite colour to match your interior while at the same time protecting it. Shutters can replace burglar bars, providing the same level of security whilst still looking great. Block out all city noise too with full control over light, heat and sound from the outside world. Are you ready to upgrade the quality of your life? Phone us immediately and get your sophisticated shutters as soon as possible!
City Centre Blinds & Shutters Customers
They are fast, reliable and HUGE selection of custom blinds that we were able to choose from.
Fantastic work! Extremely friendly and showed a consistently high amount of professionalism.
Are you ready to start your blinds & shutters project in City Centre?