Cape Town Blind's is offering its services to the residents and local businesses of Oranjezicht, Cape Town. This pleasant neighbourhood rests upon what used to be one of the largest farms in Cape Town, which at one time supplied the Castle of Good Hope with produce. Today it is a lovely pine tree infested area of Cape Town across from Devil's Peak with many schools, businesses and homes alike. Get your windows fitted with the ultimate blinds or shutters to match with Cape Town Blinds!
To get the process started, give us a call or send us a message – we will then help you to create the specifications for your perfect blinds. Once we have inspected the premises to double check the requirements, we will install your blinds and turn your interior decorating dreams into a revamped reality.
Schedula an appointment in Oranjezicht
Blinds & Shutters For Oranjezicht

Aluminium Venetian Blinds
You do not have to be affluent to do a little interior decorating! Cape Town Blinds has got you covered with our tailor made Aluminium Blinds. Dress your interior with stylish blinds in a colour of your own choice to match the setting perfectly. Aluminium blinds not only add an attractive finish to the room, they also keep the cool in the room during Summer (the reverse in Winter). Dusting and wiping the blinds down every now and then is all that is needed to keep it clean. The blind operates with an easy to use draw string mechanism. Save some pennies with Cape Town Blinds and contact us for your interior dreams.
Wooden Venetian Blinds
In the Sunny slopes of the hillside suburb of Oranjezicht, wooden blinds are a very popular choice to keep the light out. Maintain privacy with a natural tone, of which there are several shades to choose from. Our wooden blinds are durable, lasting many years thanks to the coating of varnish they have. These blinds will help save costs in Winter as they are capable of keeping the warm air inside and insulating your premises or home. The natural elegance of these wooden slats resting on your window's periphery will certainly boost the class of the room in an instance. Contact us today to place your order as soon as possible!
Vertical Blinds
Vertical Blinds are one of the most practical choices you can make for your office block or apartment in Oranjezicht, Cape Town. A very tidy way to make use of lines to decorate your interior, the modern look of Cape Town Blind's custom vertical blinds come in an assortment of delightful colours to select from. Decide if you want to have the blinds to the left, the right or the centre of your doorway or window. It only takes a 1 minute spray down to keep these blinds clean and actionable and you can save on your energy costs in Winter if you install them wisely. Drop Cape Town Blind's a line today and we will be there right away.

Roman Blinds
Take charge of your interior with your own timeless style and order your tailor-made Roman style blinds from Cape Town Blind's! We have no limits: choose any fabric, create any textures, pick any colours and just invent the roller blinds you've always wanted for your space. Roman Blinds are the most classic and timeless of all our blinds, never falling out with the times. Save on your general costs by using them effectively as insulators all year round. The simple drawstring allows these blinds to be pulled up and down without any hassles and in most cases, you can remove them to have them cleaned when necessary. Cape Town Blinds is just one phone call away from your interior's upgrade.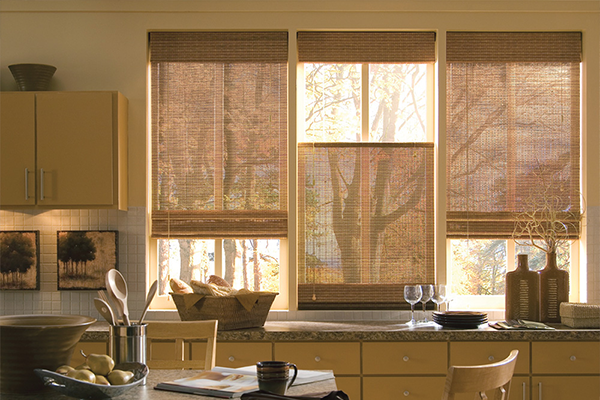 Bamboo Roller Blinds
Do you have an interior designing project going on for a relaxed room at home in Oranjezicht? Take a look at our bamboo roller blinds, designed with an environmentally friendly breezy feel. These lightweight blinds are also ideal for those who usually struggle to lift blinds. The bamboo slats interlock perfectly together, leaving no structural flaws and improving the durability of the blind. This feature also makes bamboo blinds very easy to wipe down in one go without your cloth falling through slats. Bring Bohemia to your home with our bamboo blinds by leaving us a message as soon as possible!
Shutters
If you want security for your Oranjezicht premises, but do not wish to go down the burglar bars route, you have landed on the right web page! Cape Town Blind's has many materials you can choose from, in several classy colours and fortifying finishes. Shutters impart an elegance to interiors like none of our other products can, completely sealing in any sound and sealing out all light from the outside world. Shutters keep out the bad guys and improve the atmosphere in your building by at least ten notches! Call Cape Town Blind's to settle your specs right now and have your shutters installed this week!
Oranjezicht Shutters & Blinds Testimonials
Our office in Oranjezicht needed new blinds so we decided to Cape Town Blinds. They were great, they had extensive knowledge about what would and wouldn't work for the blinds we needed. Great job to Kyle and his team.
We recently moved to Oranjezicht and needed blinds for our kitchen. The Cape Town Blinds team helped use select the blinds that suited our situation best without clashing with the overall design. Great job as always
Schedule an appointment with a blinds and shutter expert in Oranjezicht